TERACON(TRC)

DISTRIBUTION
Token Name : TERACON(TRC)
Total Supply : 10,000,000,000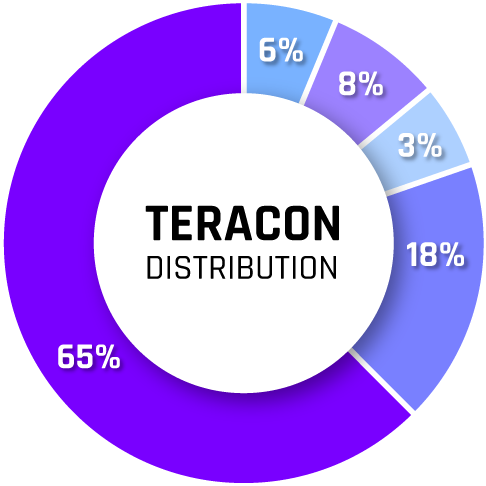 ECOSYSTEM
R&D / OPERATION
SALES
TEAM & ADVISOR
PARTNER & LIQUIDITY
65% ECOSYSTEM

65% of the total issuance is distributed sequentially for 30 years for the Metaverse ecosystem and provided to users using TERATTO through events, airdrops, and rewards.

18% R&D / OPERATION

10% for R&D for TERATTO development and 8% for TERATTO operation will be used only for expenses for the company for 3-5 years.

3% SALES

For the first TERATTO Project, 1% is sold as a seed sale to cover the basic cost and 2% is sold to Launchpool to prove the investment value.

8% TEAM & ADVISOR

It is paid as salaries, rewards, and incentives to secure excellent developers and advisors to develop the digital healthcare infrastructure metaverse for the first time.

6% PARTNER & LIQUIDITY

5% for payment or swap to partners for the expansion of Metaverse ecosystem and business cooperation, and 1% as Liquidity to control the liquidity of TERACON supply.
TERACON(TRC)

PAYMENT POLICY
ITEMs(NFT)

Avartar
Land
Building
Facility
Object
Service / Product of the Store
Fees
Store own System(NFT)

TERACON

Payment
The basic components of TERATTO, such as avatars, lands, buildings, facilities, and objects, are paid with TERACON for the ecosystem.

Avatar can be purchased through NFT before TERATTO opens, and lands, buildings, facilities, and objects can be purchased for value in the metaverse after TERATTO is opened or to link necessary systems.

Services and products sold by stores can be used by registering the type of payment the store wants through dividing TERACON and general payment (card, simple payment).

However, for the TERACON ecosystem, only TERACON can provide services such as discounts and rewards, and general payment is operated only at the regular price.

All services of TERATTO can be paid by card, simple payment, or TERACON. However, the fee must be paid only in TERACON.

This content is subject to change during the development of TERATTO, and we will notify you separately when changes are made.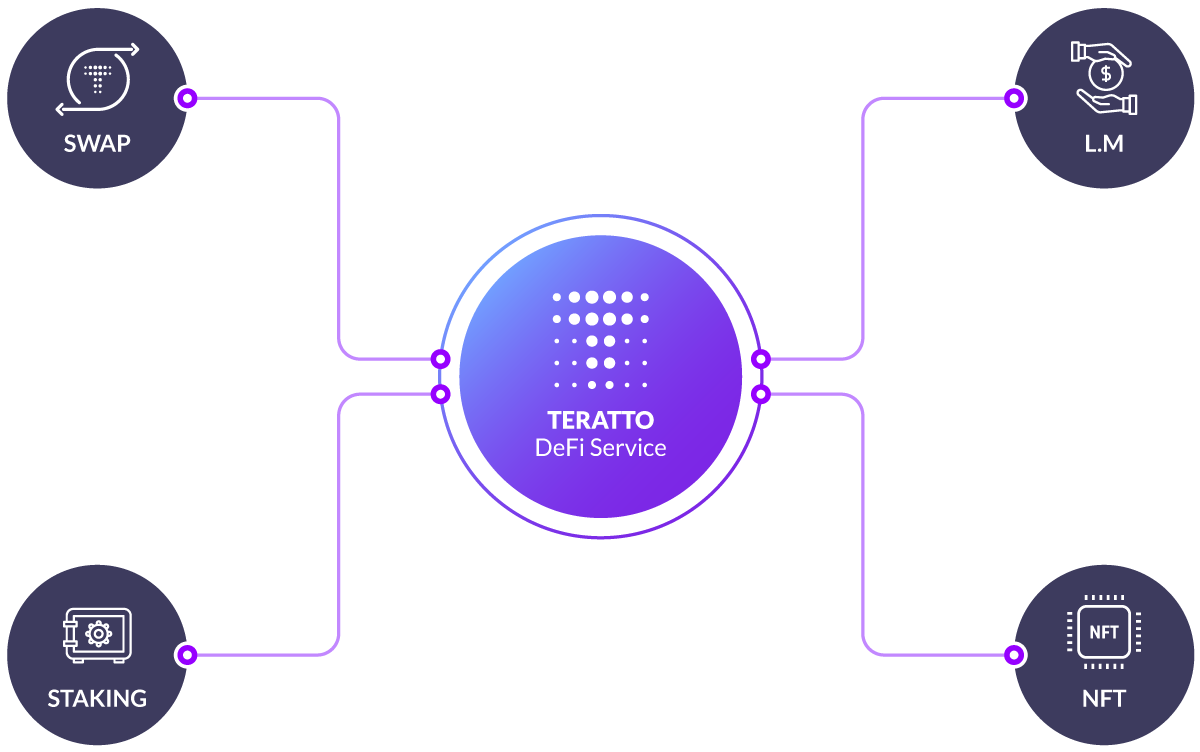 Until the opening of TERATTO, we plan to support DeFi to revitalize the TERACON ecosystem and secure users.

Initially, swap, staking, liquidity mining and TERATTO NFT mining are supported through the partner's metaverse and platform, and after the TERATTO prototype is completed, it develops its own DeFi part and provides services to users.

Even if we provide our own DeFi service, the partner's DeFi will continue to be supported, and we plan to expand the pool where users can choose the DeFi they want by operating DeFi integrated with partners in the future.
· TERATTO white paper
· TGE Planning
· TERATTO Marketing & Cummunity Channel Ramp up

· Launchpool Seed Round
· TERATTO Development Phase 1
(Game / NFT System)

· NFT Minting & Game Launching
· TERATTO Development Phase 2
(Metaverse / Module)

· TERATTO Prototype Launching
· TERATTO Development Phase 3
(Category of City)

· Advance reservation for registering in TERATTO
· TERATTO Development Phase 4
(Market / API System)

· TERATTO Metaverse Launching
· TERATTO Development Phase 5
(Expansion & Update)